The UWG men's basketball team recently had to survive through a treacherous part of their season schedule in the first month of the New Year. The team has played in six games packed in to only 14 days. While some college basketball teams have the luxury of playing one or two games a week by this point of the season with plenty of rest in between the Wolves barely got to have two days of cumulative rest between each game played in this stretch. This includes having to play three out of the six games with just one day of rest prior to.
"This is just suicide this schedule that we're under. We don't have any time to feel sorry for ourselves," said Michael Cooney, head coach of the UWG men's basketball team. "This is a brutal week for us. You have to have short term memory."
The stretch began with four consecutive home games with the next two on the road. Convincing victories against Carver and Auburn Montgomery had the Wolves in high spirits, but the continuous wear and tear made things that much more difficult for the next four games. UWG would have to battle and suffer through back to back overtime games on Martin Luther King Day weekend.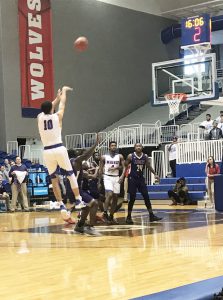 The Jan. 13 game against North Alabama saw the Wolves down 8-0 right off the bat and trailed by as many as 15 points in the first half. Sluggish first half shooting (34.5%), and poor defense left Coach Cooney in disbelief after his efforts to give his players as much rest as possible beforehand.
"The first half really killed us. We took bad shots, were impatient offensively and we turned the ball over. I thought we were fortunate to only be down 11 at half, there was no semblance that we were really trying to work," Cooney said after the game. "I was shocked. We were off Wednesday, I tried to make practice as light as I could Thursday and Friday but we looked very sluggish to start the game and I was really surprised by that."
UWG would come roaring back in the second half. A 36-22 run led by leading scorers Paul Turner and Marquill Smith gave the Wolves their first lead of the game with 6:30 left in the game. Both teams continued to battle throughout with the game eventually going to overtime. UWG would run out of gas in the extra period despite valiant efforts from their two stars, losing 99-92.
Things would not get easier in their next game just two days later against Alabama-Huntsville. Coach Cooney suffered throughout the game with the cold; a game which would last three overtimes and a total of 55 minutes game minutes played. Two separate times in regulation and double-overtime UWG had the game in their hands in the final seconds but could not pull through.
"It was tough, when you know you have the game won two separate times and they just give it away… they made it way more difficult than it needed to be," said Cooney after the thriller. "To just show that grit and keep fighting, you got to give my guys all the credit. They are always going to compete."
Cooney's men were indeed resilient coming through and winning the game by a score of 122-118. Marquill Smith again played fantastically with 33 points. However, Cooney made sure to mention the impact that his freshman players were able to have picking up the slack for some of the older starters that were struggling.
"The freshmen were fantastic tonight. Inserting Stephen Ross in the game in the third overtime, he makes all his free throws. Greg James hit big threes… Ovie Magbegor is becoming a force down low with his reach and rebounding," said Cooney.
Back to back crushing losses against West Florida and Valdosta State currently has the Wolves hanging low, with their season record now at 8-10. A unit that has not played much time together, their most recent game being just the 7th played with the current core all together, is still struggling simply to figure everything out.