The youthful UWG Wolves softball team welcomed the Delta State Lady Statesmen to University Softball Field for a three game Gulf South conference series. The Wolves came into the series with a 5-4 conference record and a 12-5 overall record. The Wolves began the season well, and were coming into the matchup with a two Gulf South conference series win streak.
The series against the Lady Statesmen began with a doubleheader on March 9 starting at 2 p.m. The Wolves scored eight runs off of seven hits in the top of the first inning, and the deficit was too much for the Lady Statesmen to overcome. The Wolves scored 10 runs by the end of the game, and sophomore pitcher Lindsey Jefferson's performance in the circle was exceptional. Jefferson pitched five innings, only gave up a single run, and accumulated a strikeout in the first game of the series.
The Wolves started the second game of the doubleheader with the first score of the game. The Lady Statesmen came back later with three runs and were up by two. However, the Wolves' three-run sixth inning gave them a lead going into the final inning. The Lady Statesmen then scored five runs in the top of the seventh inning, and won the second game 8-4.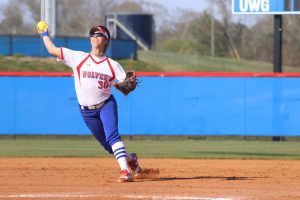 The Wolves ended the rubber match with a 6-3 victory, and took the series over the Lady Statesmen. Wolves' freshman pitcher Katie Foote increased her pitching record to 5-2 on the season, and gave the Wolves their third consecutive Gulf South conference series victory. The Wolves' series victory improves their record to 7-5 in the Gulf South conference with an overall record of 14-7.
The Wolves' centerfielder, Sydney Smith was also named Gulf South conference freshman player of the week with her performance against the Lady Statesman. In this series Smith was 6-10 at the plate while batting 3-4 with runners in scoring position. Smith's tremendous defensive role in the outfield also helped propel her to the title of Gulf South conference freshman player of the week. This makes Smith the fourth UWG softball player to reach this honor this year along with other freshman Katie Foote, Lexi Close, and Ashley Ellison.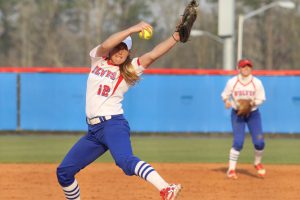 "We really have so many young players doing well for us this year, we just have to keep the same mindset throughout the rest of the season," said Smith. "That is how we are going to succeed this year and for the future, we have to create a winning environment that we can pass on to every new year of freshmen."
Smith and the Wolves will be shifting their attentions to Rome, Ga. for a three game series against Shorter on March 16 and 17. The Shorter University Hawks are 5-6 in conference play and have a record of 10-12, but UWG will be looking to win their fourth consecutive Gulf South conference series.
Comments
comments