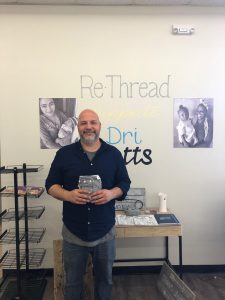 A local non-profit organization has opened a thrift store to help support their mission of helping the mothers and children of developing countries. The non-profit, called DriButts is run through Retread Thrift store in Carrollton. The vision of DriButts was founded in 2013 by Michael Wahl, a local mission pastor who often led church mission trips to Haiti and helped build wells and toilets in communities that needed them. While on these mission trips, Wahl noticed that several children ran around naked and were not provided with basic sanitization to keep themselves clean.
Wahl wondered why all of these children did not have diapers and discovered that the families in these areas simply could not afford to buy them. He also learned that the mothers were not educated on the dangers of disease through the result of poor sanitation, so Wahl decided he would address the issue himself. He brainstormed several ideas before coming up with one that he felt would work best, which included making diapers specifically for those in need.
"I went home and started to think of ways to make a diaper that dried fast, would not create rashes, would fit babies from ages zero to three, and could last up to three years," said Wahl.
Wahl and his family ordered about thirty pieces of material to test and see what would work best to fit the standards that he had set. They conducted various experiments in their kitchen sink and after several trials they decided that using bamboo as the interior with dri-fit and spandex as the outer shell was the best combination.
They then set out on a mission trip with sixteen reusable diapers providing eight moms with these new diapers. Wahl quickly realized though that providing these families with a product would only go so far and that he would need more to make the difference that he wanted to make.
"Our goal overall is to help the number of children that die from fecal matter related diseases to decrease," said Wahl. "The CDC says that 2,195 children die every day around the world because of fecal matter related disease. Specifically from lack of sanitization when it comes to washing hands and where they relieve themselves."
In 2014 Wahl's reusable diaper was invited to an idea conference called Plywood Presents by Plywood People with a chance to win five thousand dollars to invest into the product. Plywood People is an Atlanta based non-profit that is an incubator for social justice start-ups. Plywood People wanted a company name, logo, and a website within a week, all of which Wahl and his family did not have. So Wahl reached out to everyone he knew and through the help of others he had a logo made, a website running, and the name DriButts was created. Wahl's diaper won the competition and he immediately reinvested the money back into DriButts, buying several sewing machines where his family and friends sewed the first eight hundred diapers.
From this, DriButts has been able to do incredible things within the communities of developing countries since the idea conference. Dributts has not only been able to provide the diapers that the mothers and children needed, but they have been able to educate the mothers on better sanitization methods and the proper way to use the diapers. DriButts has also built a school in Haiti that holds up to sixty childrens. The non-profit has also recently opened Rethread Thrift Store in December 2017.
Rethread Thrift Store takes ten percent of all net revenue to support local ministries in the West Georgia area and the other ninety percent goes to support the mission and vision of DriButts. Wahl decided to name the store Rethread Thrift because he believes that every act of kindness threads love into somebody's life and when you repeat that act you rethread love. Every time somebody shops, donates or volunteers at the store they rethread into DriButts.
"Every act of kindness threads love into somebody's life. When you repeat that act, you thread love. We call that rethreading," said Wahl.
Comments
comments