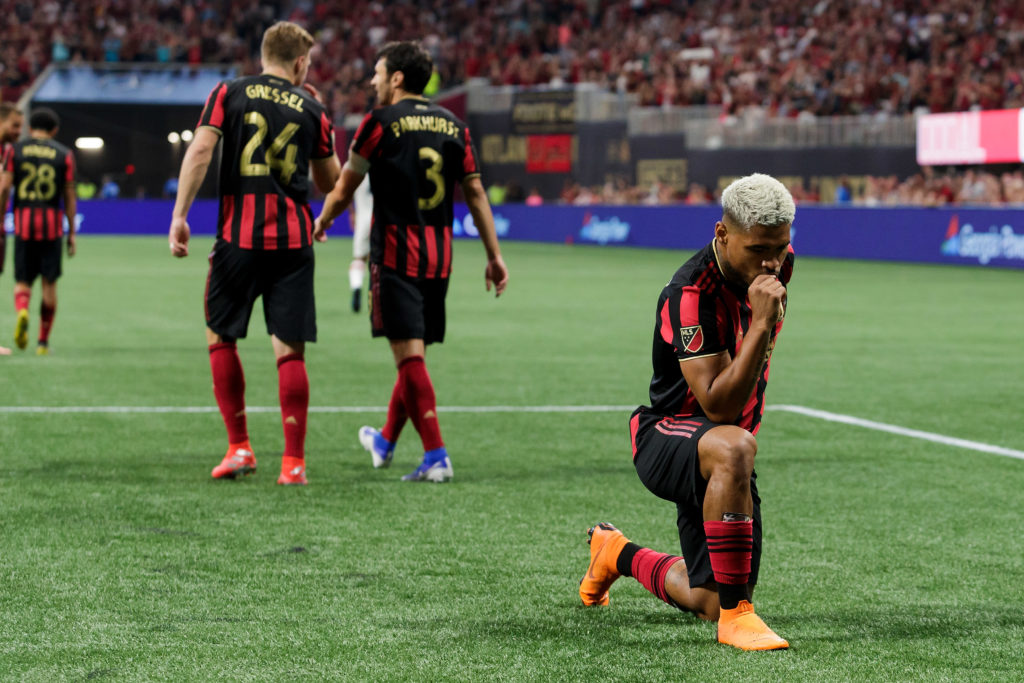 The soccer world is a machine that is constantly churning sending players and coaches all over the world in search of more money, trophies and success. As it approaches its fourth season of existence, Atlanta United watches some of its most important players do the same.
The sales of Darlington Nagbe, Julian Gressel, Leandro Gonzales-Pirez and the reported sale of Hector "Tito" Villalba sent shockwaves throughout the Atlanta United fanbase, even if some of these outgoing transfers were somewhat expected. Many fans are wondering why the Atlanta United front office would move these players on, but the answer isn't that simple.
Nagbe was expected to leave Atlanta for most of 2019. During the 2019 preseason, Nagbe initially missed training camp but later linked up with the team. There were reports that he wanted to move back to his native state of Ohio to be with his family, but Atlanta United kept him for another season before he eventually made the move to Columbus Crew.
Major League Soccer (MLS) rules and the league's salary cap can make it difficult for teams to retain their assets, forcing clubs to make difficult decisions. Even though Gressel massively outperformed his contract, Atlanta United awarded center back Miles Robinson with a new contract that runs through the 2023 season, leaving less room for the team to negotiate with Gressel. The saying "no player is bigger than the club" especially applies in a salary-capped league like MLS, and Atlanta simply couldn't hold prevent Gressel from leaving for conference rival D.C. United.
Gonzalez-Pirez's departure is a different story. On numerous occasions throughout the 2019 season, manager Frank de Boer and some of the team's South American contingent butted heads. Gonzales-Pirez made some questionable statements regarding de Boer and his tactics to the press in 2019, and conflicting statements from Gonzales-Pirez and the Atlanta United front office have resulted in some confusion over which party wanted to part ways.
Villalba, Atlanta's first ever Designated Player signing and once a regular starter for Atlanta that provided a different dynamic going forward, saw his role change under de Boer. He found himself watching matches from the bench and missed a large chunk of the 2019 campaign due to injury. His transfer to Paraguayan side Libertad reportedly boiled down to his request for guaranteed playing time, which Atlanta United couldn't guarantee. Villalba hopes to be called up for the Copa Sudamericana this upcoming summer, the main reason he wanted more playing time.
Nagbe was a regular starter during his time in Atlanta and a crucial component to Atlanta's style of play. His departure will certainly cause issues for Atlanta in 2020, but his transfer didn't have the same emotional impact that Gressel's, Gonzales-Pirez's, and Villalba's did.
"Fans have their loyalties, and who can blame them?" Dirty South Soccer's Joe Patrick said. "They grow to love these players and it's the front office's job to make sure they don't let those loyalties [impact] decision making in terms of improving the team."
Regardless of why they left, Gonzales-Pirez's move to Mexican side Club Tijuana and Gressel's transfer to D.C. United have had a major emotional impact on the Atlanta United fanbase, and understandably so. Gressel established a strong relationship with the city and its fans by participating in charity work and even launching his own blog, Gresselmania.com, to have an outlet where fans can delve more deeply into his life.
Gonzales-Pirez epitomized how Atlanta United wanted its team to play by successfully passing out of the back and making risky decisions while still securing the back line. Gonzalez-Pirez was one of the best defenders in the league during the majority of the time in Atlanta.
Gressel and Gonzales-Pirez lead Atlanta United in appearances for the club with 98 and 95 appearances, respectively. Gressel also leads Atlanta's all-time assist record with 36 assists during his time as a Five Stripe.
The core of the team that the Atlanta United front office and Tata Martino constructed together has been dissipating for some time. The departures of Gressel, Gonzales-Pirez, and Villalba, all starters for the club's first game against the New York Red Bulls in 2017, highlight how much the team has changed. Only three players, Alec Kann, Jeff Larentowics, and Josef Martinez, from the first matchday squad have remained in Atlanta since then, with Anton Walkes returning to the club on a permanent deal from Portsmouth FC ahead of the upcoming season.
Andrew Carleton, the club's first-ever homegrown player, will spend the 2020 season on loan playing for United Soccer League (USL) side Indy Eleven. Arguably, it's another move that indicates where the club is headed. Carelton was (and still is) heralded as a huge, local talent for Atlanta United. However, his off the field antics and his inability to secure a consistent spot in the first team squad forced the club to find a solution.
"I think this is a real inflection point on his career," Patrick said. "Essentially, this is going to be one of his last opportunities. If he does well and he's able to put his game together on the field, it could be a huge positive for him, and if he doesn't it could go the other way. It doesn't necessarily mean his career is over because he's going to Indy [Eleven], it just means that this is the precipice of the edge."
Atlanta United is entering a new era as a club. The 2020 version of Atlanta United may feel a bit strange, but such is the nature of soccer. De Boer and his team were able to win trophies and make an impressive run in the playoffs during 2019, but now that de Boer has brought in the types of players that he feels suit his system more effectively, Atlanta United fans are seeing the club enter a new era. The players that have left Atlanta, especially those that have been with the team from the beginning and won the MLS Cup in 2018, will forever be remembered.
Comments
comments