The Georgia Glamping Company recently opened on Lake Lanier and is giving customers outdoor experiences with a unique, and glamorous, take on camping.
"glamorous
camping" experience at a pre-set campsite where nature and comfort meet. These sites are comprised of bell tents that include many amenities you would expect from a nice hotel room such as seating, a mini fridge, a heater, beds, cooking utensils, blankets and even lighting inside the tent. All you have to do is show up and enjoy your glamping adventure.
The primary focus of glamping is to enjoy a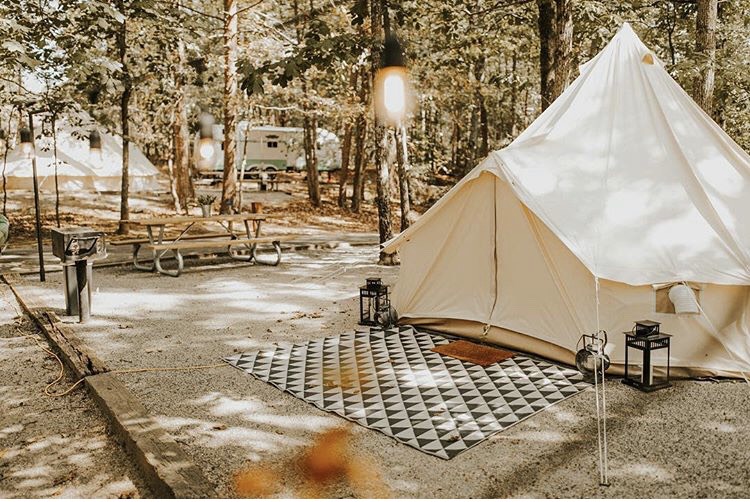 Georgia Glamping Company was created by Nathan and Rebeka Self, a couple who desired a creative vacation spot after spending a weekend in a hotel with noisy neighbors. The idea materialized and was officially launched as a family owned business in February of 2018.
"We
talked about the idea of getting the family out of the fancy hotels, away from their technology and have them experience the outdoors much like we did when we were kids," said Rebekah Self, creator and owner of Georgia Glamping Company.
"We
dreamed of unique, one-of-a-kind getaways where people can explore on their own terms."
Currently, the Glamping experience is based at Lake Lanier from early March until early November. Once this site closes for the winter season there will be occasional winter pop up spots located in Vogel State Park and Shoal Creek.
"Glamping
with us is simple," said Self.
"We
combine the need for modern comfort with a desire to be as close as possible to nature."
Customers can select the number in their party so Georgia Glamping can prepare for proper sleeping arrangements. They can also opt to rent paddle boards, kayaks, giant Jenga games, a grill and even materials to make s'mores and other fireside treats.
"We
have carefully thought through all aspects and hope to provide a comfortable, memorable experience for you, your family and friends," said Self.
"After
your stay is over, we come in and pack everything up."
"Roxy
the retro camper" even though the bell tents seem to be the most popular choice.
There are booking options for weekdays as well as weekends. In addition to booking, customers can also rent
In its short time as a business, Georgia Glamping has experienced high levels of success and has often found itself fully booked for the past couple of months and one can only assume that this experience will continue to be popular with Georgians in the future.
Comments
comments