Twisted Bliss Smoothies is the latest addition to campus dining options for UWG students.
Located on the third floor of the UCC building, the smoothie shop has attracted more students to the Delights area of Market Fresh Deli & Delights. Twisted Bliss Smoothies opened on Aug. 15, 2018, and is open for business Monday through Friday from 8 a.m. to 5 p.m. With its convenient and central location, the smoothie shop has been a hit among students who have requested healthier dining options be added on campus.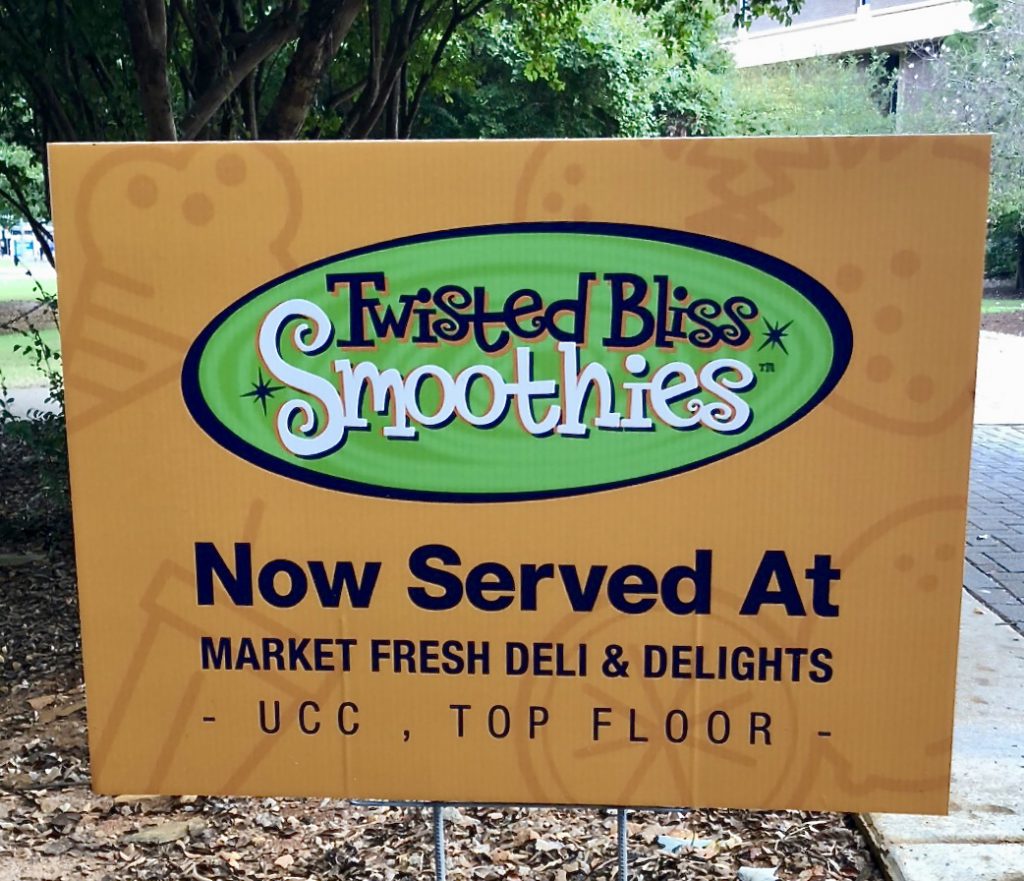 Twisted Bliss Smoothies offers UWG students, faculty and staff a wide range of healthy and refreshing drink options. These include an assortment of tropical and all natural fruit smoothies, frozen lemonade and iced teas that run in select flavors.
UWG Auxiliary Services conducts a yearly survey in partnership with the National Association of College & University Food Services that provides insight on what students wish to see added to campus dining options. The most recent survey, conducted in 2017, showed that the majority of students desired more options be added that would bring healthier food to campus.
"As
a result of students' requests for healthier options in the NACUFS survey, DineWest added Twisted Bliss Smoothies to Market Fresh Deli & Delights at the beginning of this semester," said John Lyons, Director of UWG Campus Dining.
Twisted Bliss Smoothies was chosen for UWG over other smoothie chains because of its quick, non-problematic contract negotiation with US Foods. Also, its reasonable prices for smoothies was a major factor for DineWest when it considered the typical budgets of college students.
"Twisted
Bliss Smoothies is a new offering available through our food supplier, US Foods," said Lyons.
"We
were able to add this choice to an existing location very easily without contract negotiation delays that often occur when dealing with a national brand company.
"We
compared prices to other smoothies available in our area and are proud to offer the best smoothie value in town," continued Lyons.
"The
price range for a smoothie is $3.49 to $4.29 plus tax, unless a student makes the purchase with Dining Dollars, then there is no tax charged."
Auxiliary Services and DineWest remain excited for how UWG students are continually showing interest in this new, healthy dining option.
"As
soon as DineWest announced the upcoming addition of smoothies to Market Fresh Deli & Delights via social media this past summer, students responded with overwhelming excitement," said Lyons.
Looking forward, DineWest and UWG Auxiliary Services will continue to collect the latest information from UWG student surveys in regard to food and drink preferences that they wish to see added to campus in the near future.
"DineWest
is always looking for opportunities to meet the needs of our students," said Lyons.
"The
upcoming Dining Survey gives us the feedback we need to make those decisions. Be on the lookout via UWG email for the latest Dining Survey sometime after Oct. 22."
Comments
comments