The University of West Georgia is traditionally a leader in student safety and well known for both response and preparation when handling potentially dangerous situations. They do not always have to rely on themselves to learn, however, as much of their emergency preparedness comes from lessons learned from personal experiences and those of others who have faced similar situations.
Recently, officials at UWG have committed a gr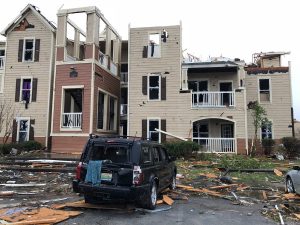 eat deal of their time to researching and learning how to better prepare the university for any complications that could result from severe weather. This specific focus has become much more pressing in the past few weeks as they are learning from, and with, Jacksonville State University in Jacksonville, Alabama after an EF-3 tornado touched down on their campus on March 19.
The tornado, reaching wind speeds up to 140 mph, touched down on JSU's campus and ripped through residence halls, administrative offices, instructional facilities and an overwhelming amount of off-campus student housing. Luckily this occurred during JSU's spring break and no students or members of the Jacksonville community were seriously injured or killed by the storm. The widespread damage did however disrupt the class schedule, forcing the school to remain closed for three weeks until their eventual reopening on April 9.
In order to address both the physical and educational issues that the storm caused, the university was forced to immediately respond to damages and develop a contingency plan for the continuation of classes that lent thought to students who had consequently been forced to move after their residencies were severely damaged. As a result the community came together to help repair sections of the campus and students were given the option to end their semester early with their current grades, withdraw with a grade of incomplete or to close out the semester in classes that had been drastically modified to fit a hybrid-type setting due to the circumstances.
Officials at UWG immediately took notice of the planning taking place at JSU and began to see this situation as an opportunity to both learn with them and to learn from them.
"I was monitoring JSU and as I saw interesting things they were doing I was passing it on to our campus safety group and the emergency planning group," said Michael Nelson, UWG Director of Emergency Management. "I told them that once they get settled down I wanted to do a visit with Risk Management, somebody from Housing and Residence Life, somebody from UPD where we go over and talk to our counterparts so they can tell us what they learned."
Nelson and his colleagues also began to discuss ways that UWG could not only learn from JSU but also think ahead to develop their own plan for a similar situation and to include it in their emergency operations plan that is due to the University System of Georgia (USG) by Aug. 1, 2018. The goal that the team also has for themselves is to not only improve the plan that they already set in place but to also become a leader in safety and preparedness for the state of Georgia.
"What I'd like to see is for us to be a leader, like UWG actually is in a lot of stuff, and for us to develop this procedure ahead of time and submit it to USG for approval so they can farm it out to everyone else," said Nelson. "We're also going to do is reach out to other universities to see if they have a plan in place for this already."
Ultimately, Nelson and the other professionals who are dedicated to making UWG safe for everyone who steps on campus are dedicated to learning everything they possibly can to be sure that the university is prepared to handle even the most dangerous of storms.
While UWG has been fortunate enough to miss the brunt of destructive severe weather in the past, faculty and staff can only remember how close they came to a tornado touch down on campus just over a year ago. Though there may be miles between Carrollton and Jacksonville this can and should be a situation in which anyone and everyone can learn from.
Comments
comments