The Christmas season is here and Carrollton's Chick-fil-A restaurants are preparing for the big holiday. Through different marketing strategies, sales and planned events Chick-fil-A is ready for a busy season.
On Saturday, Dec. 8 from 4-7 p.m. the Carrollton Chick-fil-A on Highway 27 will be hosting a Christmas Paint Party. An instructor from Truth Be Told Art, a Christian-based organization that conducts scripture paint parties, will lead the group on how to paint a Christmas canvas together. Guests can expect step-by-step instructions for painting the canvas, and all the art supplies will be included.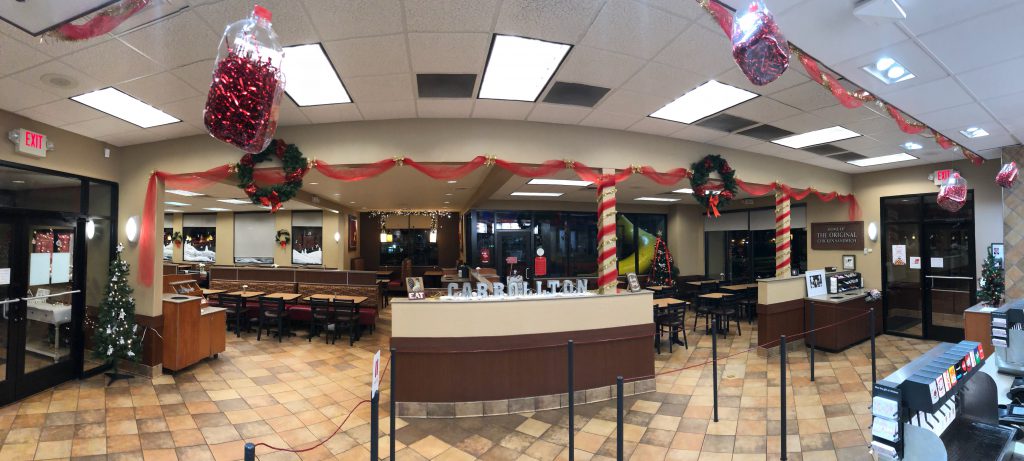 On Saturday, Dec. 15. registered kids ages 8-12 will be able to participate in a Polar Express Kids Paint Party. Hosted by the Bankhead Highway Chick-fil-A, Truth Be Told Art will return for a second party with a Polar Express theme. Parents can purchase their child's 8-by-24 inch canvas painting for $30.
Chick-fil-A claims to host gatherings with the purpose of fostering relationships among the Carrollton community. These events give people the opportunity to come together at their local Chick-fil-A and enjoy the Christmas season.
"We do community events, like Paint Parties, Princess Night or Breakfast with Santa Cow, that bring families in," said Samuel Mancas, Marketing Director. "The holidays are busy for us because school is out and families are out and about daily."
Chick-fil-A also does behind the scenes work to help the Carrollton community.
"Another big thing we do is Cow Meals," said Mancas. "We partner with local businesses to provide hot meals to those in need."
From seasonal drinks to decorations, Chick-fil-A has its Christmas traditions, and past traditions have included the annual Chick-fil-A Cow Calendar. Guests could take home the calendar and enjoy monthly offers and coupons. Now, Chick-fil-A wants its customers to download their application in order to receive those same deals.
"The company encourages the use of Christmas decorations in the forms of trees or lights during the holiday season," said Andrew Ayers, Carrollton Chick-fil-A's Food Safety Director. "Company wide, we have gotten rid of the cow calendars. We will be replacing all of the deals you would get from them in the form of free treats on the app."
Something the company markets differently during the holiday season is their catering trays. Since Thanksgiving and Christmas so close together, Chick-fil-A sees an increase in the amount of trays they sell.
"Specific to Carrollton, we advertise catering trays ready in 10-15 minutes accompanying a free gallon of tea," said Ayers. "This season is the busiest for us because of all the catering we do for the Thanksgiving and Christmas parties that go on. We try to upsell catering trays as much as possible."
As far as sales go, Christmas is a significantly busy holiday for Chick-fil-A with Christmas Eve being one of the busiest days of the year.
"We do experience about a 20 percent growth in the Christmas Season with more foot traffic," said Mancas. "Sales growth is always good but not the primary goal. Our organization has always been relationship minded, results driven."
As per tradition, Chick-fil-A will be closed on Christmas day.