Fans and alumni traveled to the University of West Georgia as UWG demolished Albany State 48-16 in this year's Homecoming football game.
Returning to the University Stadium after a tough loss against Delta State the week before, the Wolves came out ready to win.
"Usually after a loss, you kind of get their attention because they then realize the mistakes they made before," said Wolves head coach,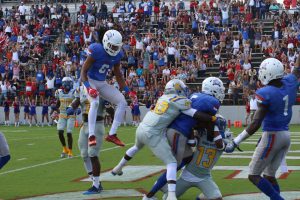 David Dean. "When you were trying to correct a football team after a victory sometimes it goes in one ear and out the other and that's when you have to do your best coaching. From a loss, all you have to do is show them the mistakes that they made and here is what they did wrong and this is what it cost us and hopefully they learn from that."
West Georgia started the game off with a bang as quarterback Willie Candler tossed a nine-yard touchdown pass to JJ Jones, giving the Wolves a 7-0 lead in the first few minutes of the game.
The momentum did not stop as the team continued to rack up the numbers on the scoreboard. Shaq Roland hauled in a three-yard touchdown completion putting UWG up 14-0 against the Rams at the end of the first.
The second quarter heated up as Candler dogged past six defenders with a 14-yard touchdown run.
Wide receiver DeNiko Carter ended the first half with an incredible 'Hail Mary' catch sending the Wolves to the locker room up 28-0 at the half. The defense stood strong and powerful as they kept the Rams scoreless the whole first half.
The third quarter continued with thousands of fans and alumni cheering for home side with Travis Custis running a 7-yard touchdown that extended the Wolves' lead to 35.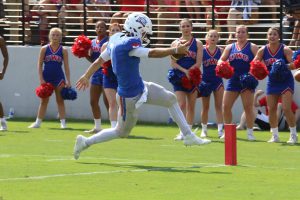 After an Albany State safety, Tevin Isom ran a 28-yard touchdown run growing the lead to 41-2 after the extra point was blocked.
With the game in hand for the Wolves, Candler was replaced by junior Tyler Queen, a transfer from Auburn University.
Perry Seldon excited the fourth quarter with a 34-yard touchdown run to end the Homecoming game 48-16. Alumni and fans celebrated with current students and ended a great Homecoming week with a huge win.
"If we can get a little bit better each week, that's what we want to do. We want to be playing our best by the time we hit November and hopefully have an opportunity to go to the playoffs," said Coach Dean. "So I am not concerned that we are not playing our best football right now. I am concerned that we are getting better on the practice field and then in games slowly getting better each week."
Comments
comments